27 Unique Features That Makes XgenPlus Most Advanced Enterprise Email Server
Hey, Guys! I'm quite sure that you are here on this blog post in search of the cost effective, and advanced email server that can give a boost to your business. Though there are hundreds of Email Solution provider in the market but to choose the right Email solution as per your requirement is like a nightmare. But we can make this happen. With XgenPlus Mail Server you can experience to work on what you actually wish for. Before heading to its features have a look at what actually XgenPlus is and for which it is for.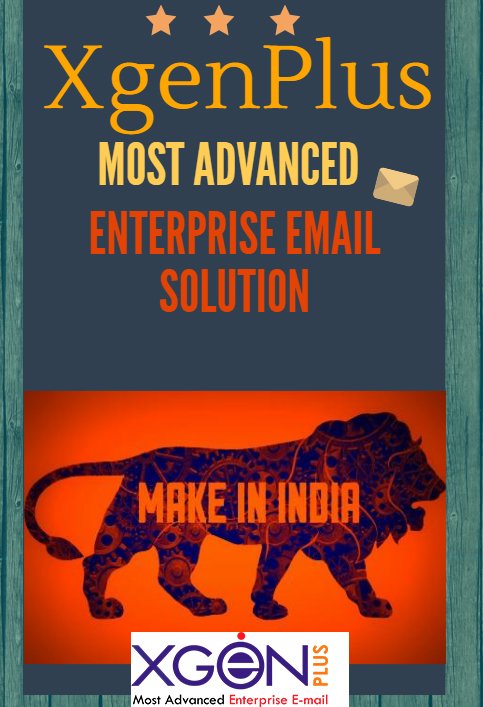 XgenPlus

is an advanced mail server which is specially designed and developed to serve Enterprises that deals with a

high

volume of emails and want more

flexibility

and

security

when

dealing

with these emails.
This Enterprise email solution expands on the features providing collaborative, communicative and administrative features that are required by any organization to control large scale operations.
ISP / Hosting Companies / Larger Enterprise / SMB / BPO / Colleges and Schools / Government.
Listed are the top 27 reasons why XgenPlus is called advanced email server
Top 27 Features of XgenPlus
2) Antispam : Collaborated with the finest antispam technology software "Spamjadoo" the emails are validated multiple time

before letting into the inbox.
3) Trackable Bulk Mails: Get reports(Delivered, Read, Replied and unsubscribed counts, pending & bounced counts) through XgenPlus TBMS module of the bulk mail sent.
4)
Support Mangement
: Through XgenPlus AIR( Automated Inward Routing) it is possible to manage Customer Care/ Support/ BPO teams in the easiest way.
5) Secure Hidden Attachment : Concealed the confidential attachment inside harmless dummy picture.


6) Inbuild Deduplication for Attachments: No duplication of attachments.
7) Broadcast feature: Send millions of email in a second.



— XgenPlus (@xgenplus) April 27, 2016
8) Sharing & Tagging : Share email without forward with set user permissions and easy tagging for make search easy in plenty of emails.



Email Tagging





9) Group Mail with tracking report: Send group email to similar domain email ID's within few seconds.




10) Virtual Storage: Attach as many as files of different extensions and forward easily on the go.




11) 2-Step Authentication: For access email account, set 2-step Authentication process for more security





12) Powerful search: Fast and reliable search emails with folders, size, from, to, subject, message, attachment name and type, content within the attachment, tags, read/unread email, color code, date in a single click. Learn how to

search within attachments

.
13) Security & Encryption (PGP-Pretty Good Privacy) : Hack free with 1024 bit encryption which does not allow anyone to read email even after logging into the account.
— XgenPlus (@xgenplus) April 18, 2016
14) Archive Email- Retrieve email even after deletion from the account.
15) Merge Email- Merge/ demerge email accounts folders partial or fully in very few clicks.




16) Country level access control – Limit access control of email as per your need outside the country.


— XgenPlus (@xgenplus) April 7, 2016
17) Smart Compose – Compose mail in all Indian regional languages, include the signature, insert links, images, colorful text, fonts, size for better appearance of mail.
18) Customizable Email Hosting (Branding): Provides customized email hosting as per user requirement.
19) Scheduler- Schedule vacation mail, task reminders, meetings , calendars days from SMS.





20)

SMS/ Fax Integration

- Sending SMS and Fax is possible without

Fax

machine or schedules the delivery of fax to be sent out via email.
21) Forward Many – Forward many mails in a single click.
22) Smart Management- Manage email smartly through email tagging, notes, color code and sharing.
23) Smart send : Smart compose an email by setting priority, executing Rights Management, Delivery report, sending scheduled email or attaching events, read receipt, reply awaited .
24)
Image Compression
: Without any image compression software , compress image upto 25% instantly.
25) Import and Export contact list- Import and export all contact list in few seconds. Can also, configure all the Gmail and facebook chat list with email.



26) Recall Mail- Undo sent mail in a single click.

Our Important Clients
TCS, BSNL, AskMe bazaar, Amity, bank bazaar, NPCI, Maxlife, Samsung, Shopclues, HAL, MTNL, Yepme, Luxor Group, Chili is using XgenPlus as their

web mail

server
Do your email server has all these advanced features. Let us know in the comments!